XXXtra bits
Had some of you fooled by the title!!!
This page is really for unusual, strange and unexplainable events that I have experienced or found on the internet, or other people have told me about.
---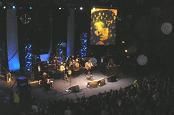 Here 's a picture of the reformed Mott The Hoople at Hammersmith Odeon on 3/10/09 with some orbs in the picture.
Press on photo for a larger, clearer picture. Any thoughts?...........
---
A nightmare for Health & Safety!
Just press here for a link to a film showing something very unusual happening in Thailand
---
Is this evidence for angels in action? ...... press here
You can't see them, but how on Earth did this man survive this????
---
Here is unique footage of a UFO in Egypt taken by my son in 2011.
What do you think?
---