Heroes
One this page are a number of people who have influenced me by their actions or words or music. They are what I would call my heroes.......
---
Diana, Princess of Wales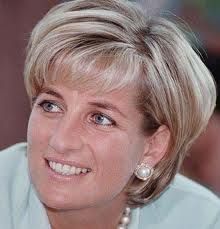 Diana, Princess of Wales - Probably the most famous female in the World during the 20th Century. She inspired millions with her life, with all its ups and downs. Having to live in a media and royal family straight jacket, she still managed to triumph over betrayal and insecurity. I liked the idea of her sneaking out at night from her palace to feed the homeless down and outs by Waterloo Station in London, as well as taking a public stand towards AIDS sufferers. She helped change poeple's attidues in so many ways. There's so much I could write, but I'm sure everyone has their own particular memory of her.
For an interesting book about Diana, read Divine Intervention by Hazel Courteney.
---
John Lennon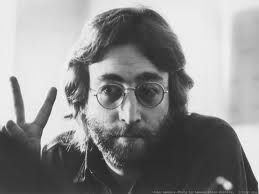 John Lennon - Always my favourite and funniest Beatle. Like Diana, John Lennon left this world far too early. He was controversial, outspoken, anti-establishment, yet a great visionary for peace and a better world. In one of those great synchronicities in my life, I came into this world less than a mile away from where John was living at his Aunt Mimis on Menlove Avenue in Liverpool. A few years ago Wendy and I visited that house and you could feel his presence in that small bedroom above the front door, where he wrote some of the earliest Beatle songs. Paul may have written the best Beatle tunes, like Get Back and Paperback Writer, but John wrote Imagine.....
---
Bill Shankly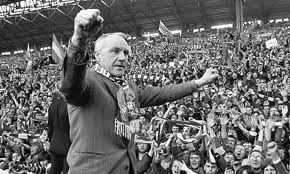 Bill Shankly - The greatest Liverpool manager there ever was and ever will be. I know Bob Paisley led Liverpool FC to the European Cup and many more trophies after Shanks had gone, but Shankly laid the foundations for Liverpool's huge success in the 1970's and 80's. I feel privileged to have seen him in the flesh at the match where this photo was taken, after Liverpool had just won the 1st Division Championship in 1973 after several years without a trophy. You can spot me in the Kop behind him! Here is a film of that historic event - press here.
"He made the people happy"
---
Musical Heroes
This a separate section listing my main musical heroes as there are so many of them.....
---
John Lees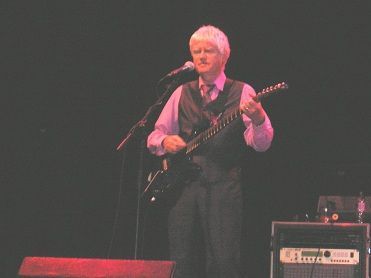 John Lees - of Barclay James Harvest. Over the years John has written some of my favourite songs including "The Great 1974 Mining Disaster", "African", "In Memory of the Martyrs" and "The Ballad of Denshaw Mill" to name but a few. I was privileged to be at Liverpool Stadium back in August 1974 when they recorded the "Barclay James Harvest Live" album. I am happy to report that John is playing regularly with his own version of Barclay James Harvest and I was fortunate enough to finally meet up with him in 2006.
His website is: http://www.barclayjamesharvest.com/index.htm
---
Laurie Wisefield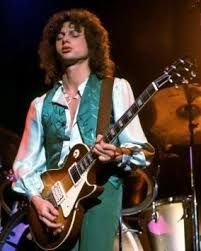 Laurie Wisefield - ace guitarist, once of Wishbone Ash, but he has also played with such names as Tina Turner, Joe Cocker, Roger Chapman and his first band, Home. I was always impressed with Laurie's playing and by the end of the 1970's, Wishbone Ash had become by all time favourite group. I first saw Laurie play with Wishbone Ash at Hammersmith Odeon in 1976 and have seen him play with Wishbone Ash on several ocassions, as well as with Roger Chapman. Laurie co-wrote with Claire Hamill, my all time favourite song, "Living Proof". One of the highlights of my life was performing that song with Laurie next to me at my 40th birthday party!
---
Pete Townshend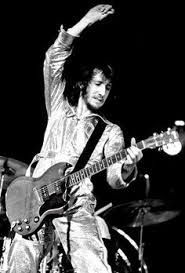 Pete Townshend - the founder and leader of the Who, who wrote such greats as Tommy, Lifehouse and Quadrophenia, as well as being a great "chord" guitarist. I was lucky enough to have seen the Who at their peak in 1975, when they were probably the best live band in the world at the time. Pete's solo gig to perform "Lifehouse" in its entirety in 2001 ranks as among my favourite gigs of all time. Always a very erudite and knowledgeable, yet humble man. He still has a lot to give.
---
Sporting heroes - over the years I have been inspired by the achievements of different sportsmen and women. Here are some of them.....
---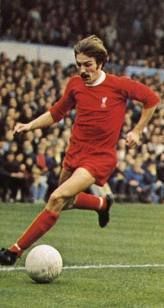 Stevie Heighway - Easily my favourite Liverpool player in the 1970's. I remember being impressed that he was a university graduate who had gone on to play professional football. He was nicknamed "Big Bamber" after Bamber Gascoigne of University Challenge, whilst Brian. Hall was called "Little Bamber" as he too had gone to university. I saw him play several times at Anfield and his speed down the wing was phenomenal. My favourite Stevie Heighway goal is the one against Arsenal in the 1971 FA Cup Fnal, but there were scores more. He is forever immortalised in the song, "Flelds of Anfield Road":-...'Stevie Heighway on the wing......."
---